Johan Bezem ist Mitglied bei

Project Management Institute

Chaos Computer Club e.V., CCC
Personal data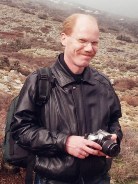 I was born in Rotterdam, the Netherlands, in 1964, where I lived some four years. I grew up in the south of the Netherlands, in a small town called Oosterhout.
After studying in Eindhoven, at the Eindhoven University of Technology, I moved to Germany in 1988, at first temporarily, then in 1990 permanently.
I am married, no kids, but our dog Ciska livens up life at home, even though she hasn't gotten a picture yet on my cats page.
For details concerning my professional life, see my curriculum vitae.
And if some time remains for something like hobbies, I pursue following interests:
Reading, mainly science fiction, but also an occasional 'Tom Clancy'.
Playing with my Nintendo64.
Astronomy also has my interest, but since I don't have the time to regularly attend meetings or stay out late at night, mostly this means reading and/or computer work.
Learning Greek. Yes, I forced myself to be disciplined enough to go to school and learn this fascinating language!
Well, I guess that's just about it. At least I'll keep it at that.